A welcoming appearence
The building consists of two separate 5-storey volumes that are connected by a shared foyer pavilion. It contains a mix of 1-, 2- and 3-bedroom apartments varying between 40 and 90 sqm in size. The apartments on the regular floors have a private loggia, while the staggered fourth floor is surrounded by spacious roof terraces, which lets the building's height relate better to the scale of its surrounding.
The main entrance of the building is located towards Alt Oberliederbacher Straße, facing the old town. A generous canopy marks the entrance for the residents and creates an attractive and welcoming appearance. On the other side, facing the park, there is a private piazza for the residents as well as a garden that contains a pergola so residents can enjoy the view into the park.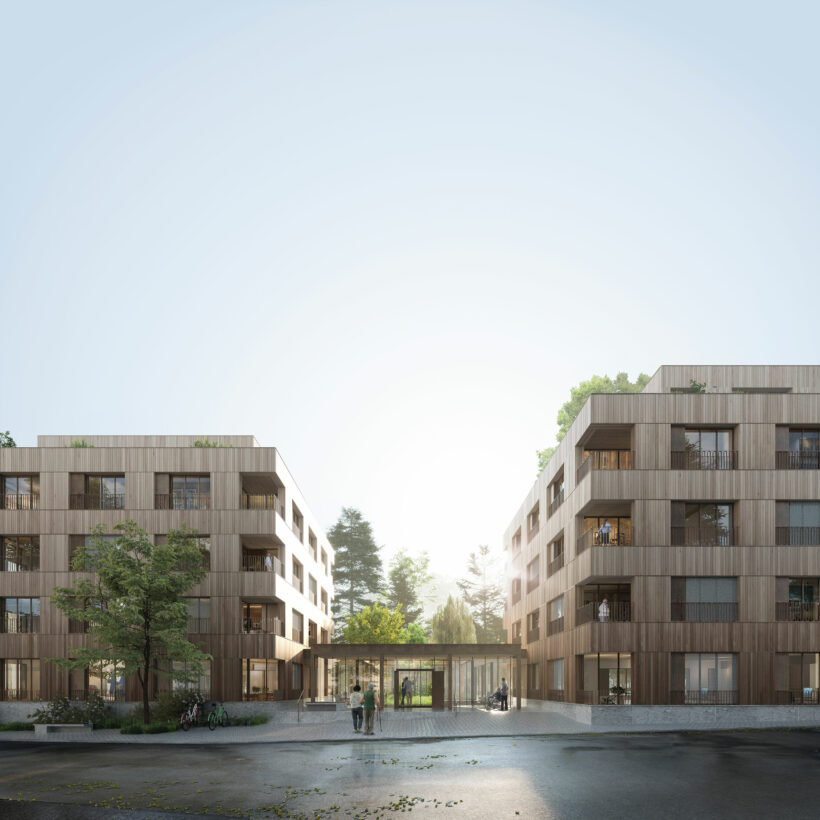 Strengthen togetherness
The building is designed to promote a physically active and social lifestyle. The foyer that is centered by a large skylight that floods the space with natural light can be used as a meeting point for residents and guests. The ground floor has a range of shared spaces: a reception, a coworking space, a shared kitchen, and an event space for both music performances and yoga classes. The four upper floors hold serviced flats for both the elderly, but also younger people, especially with acquired physical disabilities, as well as single parents with children.
Nature plays a central role in the project. It is present in all 42 apartments as they all have at least one view towards the park and another towards a different direction. While timber is the chosen load bearing structure of the building, wooden surfaces characterize both the building's inner surfaces and its façade which will be cladded in cedar wood – all in order to harmonize with the park.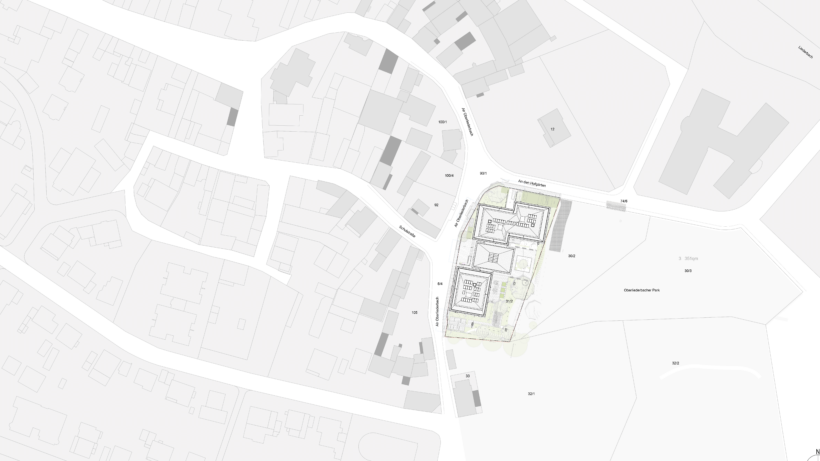 High sustainability goals
The project has high sustainability goals, it is being planned as a low-energy building with an energy-efficient mechanical design and is primarily operated using renewable energy like solar heat and photovoltaic cells. The thermal envelope of the building is designed in such a way that the heat losses through it are around 30 % below the building code requirements for new construction. All in all, the requirements for an Efficiency House 55 in the renewable energy class (EH 55 EE) of the Federal Promotion for Efficient Buildings (BEG) are met.
Mobility
The building's underground car park has an area of over 1000 sqm and consists of 44 parking spaces, including charging stations for up to 20 electric vehicles. Additional 7 guest parking spaces are above ground. The building has a bicycle garage in the garden which offers 24 bicycle racks. Wheelchair users can use a parking facility for exterior wheelchairs right next to the entrance where they can change to an interior wheelchair. The same space also provides for a dog shower when returning from a walk in the dirty fields.